Video Analytics
Video analytics based Intelligent Surveillance system is capable of automatically analyzing video to detect and determine an event on REAL TIME (active observation) basis. Equipped with the built-in intelligence, video analytics systems in a restricted area can automatically detect unwarranted events and trigger alerts. This is a software solution designed to match and work with readily available CCTV cameras.
The developed video analytics system for human detection and tracking can be applied in a wide range of areas indoor and outdoor. The system can be installed in restricted areas to detect and track any persons appearing inside the restricted area. It would trigger an alert and keep a detailed record of any suspicious incidents.
Object Recognition
Detection of Abandoned Objects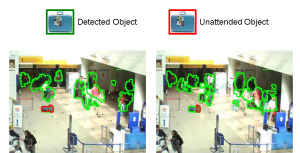 Human Detection & Tracking
Posture Analysis
Falling towards left-hand side of the frame
Trying to stand up after falling
Falling backwards away from camera
Trying to stand up after falling
Falling towards camera, and standing up
Squatting down
Detection of Persons Wandering into Unauthorized Area
Face capture & registration in system upon entering into marked zone
Unique ID simultaneously given
Information matching of identified persons
Constant communications of each camera with control center
Movement tracking within a compound
Alarm triggers if person intrudes into unauthorized zones
People Counting and Crowd Detection
Local Abnormality Detection in Crowded Scene
Van Moving in Opposite Direction
Pedestrian Walking in Opposite Direction
 
 
 
 
 
Detection of Cyclist
 
 
 
 
 
Detection of Cyclist + Person Skating
 
 
 
 
 
Detection of Distress Event In Moderate Crowd Scenario
Life-saving Lesson – Realistic Scenario Close to Actual Drowning.
System is able to detect all drowning cases.