Voltage Stabilizer
VOHome is a British designed domestic voltage optimisation system that works in homes and small business premises to reduce the incoming voltage supplied to a building. This produces a reduction in energy consumption, savings on electricity bills and reduced wear on appliances. Utilising renowned, award winning technology used on larger scale commercial applications VOHome adopt this for smaller properties.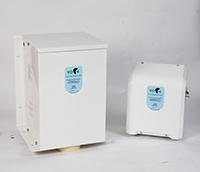 Voltage optimisation is an important technology as in the UK, most electrical appliances are rated at 220v but the average voltage supplied by the national grid is 242volts, so in most cases premises are supplied with a higher voltage than is needed.
An innovative energy saving device VOHome relies on magnetic interaction, has no moving parts and requires no maintenance. In addition, it delivers low impedance, high efficiency and comes with a 5 year warranty.
An average home can expect to reduce energy consumption by 12%-15% through the installation of a VOHome unit and savings are guaranteed to be no less than 10%.
Devices for air conditioning (AC)
Using multiple products available in the market, we are able to offer the right product for the purpose intended. Among the products available:
1.Split units
This device is able to provide savings up to 15%
Results are immediately noticeable via energy bills
System is installed indoors with minimal/no hacking involved
Simple and easy to manage system.
2.Chiller plants
Composed of multiple devices such as passive condenser controller, evaporator optimizer, refrigerant flow enhancer, and a smart energy controller
Long product life with payback within 2-3 years depending on system capacity
3. Alternative solution is using ADDITIVE to the gases to increase/reduce cooling of temperatures.
4. ICE ENERGY STORAGE using low non-peak electricity to preserve energy and use the cool air during high peak energy tariffs thus reducing cost on the long run.
Modular vertical garden
Generally, the garden wall is suitable for both vertical and horizontal usage due to its modular design. Design of this garden must take into account surface mounting and potential distance from the wall to create cooler temperature. The garden is automatically watered via proper piping system installed during set up. There are a variety of plants selectable which are suitable for our climate and application purpose.
Thermal coating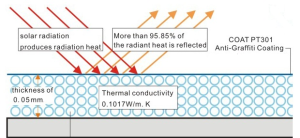 This special coating is applicable to exterior roofs and walls as well as interior walls. With the irreplaceable innovative features, the electricity bill for interior air conditioners is reduces in a green way, moreover the penetration of hazardous substance on exterior roods and walls are prevented so as to extend the life of buildings.
Since 1990, this coating solution has been used widely under the humid and hot sea-island climate, like Taiwan, thus the demands on weather resistance and water resistance are stressed. Moreover, since 1992, it has been applied to the corporations like Carrefour and B&Q in Taiwan and soon after to overseas markets including Japan, Singapore, Hong Kong & Malaysia.
This coating differs from common thermo shield ceramic coating in the markets for thermal insulation. The hollow particles in solution swell in accordance with the temperature change so the coating will contain more air owing to the swelling particles under high temperature which hinders the thermal conductivity and leas to the optimal thermal insulation. The preceding feature is unavailable from common ceramic coating. Besides the hollow particle at 40 micrometre results in the optimal flexibility and elasticity. We also provide anti-graffiti coating additional solution thus allowing also for easy cleaning of the solution's surface. Why thermal coating:
Reduces electricity bill by reducing required air conditioning
Increases water proofing thus minimizing leakeages
Environmentally friendly, reducing health risk
Long term warranty (10 years) provides ease of mind
Energy Saving for Street Lights.
This solution is suitable for gated community, resorts, parks, universities and industrial area with large compound area. The lighting flow dimmer stablizers are most efficient solution for high powered sodum vapour lamps because we are able to customer the dimming flow at scheduled hours and we provide guaranteed savings on operating cost on street lighting installation up to 40% either in energy or maintenance. Advantages:
Great energy saving – soft start up ramp, monitorined by microprocessor, controlled and adjusted by PC and/or GSM communication
18 steps stabilization mode
Modular equipment, with low maintenance cost
Efficiency of system more than 98%
Prolongs lamp life
Maintains and provides good power factor.
Features:
Available in Single phase (3.5kVa – 40kVA)
Available in three phase variation (10kVA – 120kVA)
Outdoor and indoor units available
Voltage range up to +/- 7%
Independent stabilization by phases.
Modular installation
Suitable for 50Hz/60Hz application
SET LUX series – Lighting flow dimmer stabilizer